Lucas, Pucas, Mucas.
(he's gonna kill me when he reads that! ha!)
A man of few words when it comes to conversation about blogging. I knew if I wanted real answers to these next 5 questions, it be best to catch him off guard. I'm not sure this tactic worked. As I rolled the questions, I got the weird impression that he thought this was silly. huh?no.why?! We laughed our way through his answers, I even told him his friend Whitt,
Mallory's
hubby, was answering these same questions, in fact
she
and
Stephanie
are behind this brilliant link up idea! Still, he goofed off and these were the best answers I could get out of him. Here's to the Boys Behind The Blog....
1//
Does your wife use your real name or nickname on her blog?
real name and nicknames, it changes
2//
If you had a blog what would the title be?
I Don't Do Blogs
or
Beans & Bullets
3//
Do you ever feel ignored by her because of the blog?
yes and no. depends on if it's football season. ha! She has her time in the morning and at night after the kids are in bed, it's her cell phone that sometimes gets in the way!
4//
How has her blog changed or evolved throughout your relationship?
her blog has definitely grown, it became something neither of us knew blogs were. She's worked hard to figure out how to manage her time, that's been the hardest part. The best part would be the friendships she's making and some of the emails she gets.
5//
What is your favorite post on her blog?
High Five For Fridays. And being surprised by a post about me or anytime she's excited about workouts and the Virtual 5K.
I knew he'd say High Five for Fridays! And Beans and Bullets!! WHAT?! that's hilarious!
Meet Lucas Luke, he blogs over at Beans and Bullets...
Cool thing about Lucas is he's open to anything. He loves what I love and supports what I choose to do with my extra time. He's a simple guy who may joke on some parts of blogging but definitely loves it when a Stride Right box shows up in the mail or a 20 pound bag of dog food comes free to the front door, he even got excited about the random product review that showed up yesterday. Neither of us realized how much I would enjoy blogging or how "addictive" it could be. Really, we've worked on it together, he reels me in when I get carried away and he encourages me when I get stumped. I love that man and appreciate that we have so much to do together and so much that we can do independently
:)
***************************************************************************************************************************************
Today I'd also love for you to get to know Katherine of
Mr. & Mrs. Foster
! She's a fellow mil spouse, fur mom and a goat mom. Goat mom? Yes, Katherine is full of surprises. If you've never believed in fate, you haven't read
the story of how she and her husband met
. They live life loud. They're an adventurous couple who
forgo the 5 star hotels of Hawaii
for beach camping and
standing above the clouds
. Her
recap of their Chili trip is one of a kind and should be on the big screen
.
(really - if you do anything today, do the Chili recap)
Tons of reasons to hop over and say hi and one more.... her man is overseas right now kicking a** serving our country aka deployed, she'd love the extra company!!
Like Kristine, I too am a military wife! Over at my blog,
Mr. & Mrs. Foster
, I am currently writing about making it through my third deployment. Being my third time, I've learned my own set of
deployment survival tips
. In order to help this deployment go by as quickly and painlessly as possible I am challenging myself to stay busy and productive by completing a
Deployment Bucket List
. The goals on my bucket list range from running a half marathon to summiting Mount Si to maintaining a successful garden to growing my blog and that would be why I'm here! :)
While I am having fun completing my bucket list, I am excited for the day when my husband returns and my blog can go back to its regularly scheduled programming: Documenting the lives of Carl and I.
I like to blog about our many adventures, our travels, and our farm!
************************************************************************************************************************************
Go say Hi! You'll love her and her blog!!!
What does your man say about your blog?
Ever asked him what his blog would be like, if had one?
Does he help you with your blog?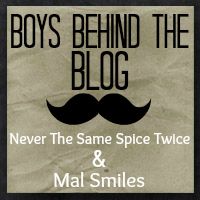 ...happy to have Shannon with me this month...