Let's do this!
Start your summer the healthy way with a
virtual 5K race!
It's called a race but there is no winner, no looser. You can walk it, you can run it, you could even bike it. Go solo or team up with friends and family. Hit the streets, the track or the treadmill. Jogging stroller and dogs are permitted
:)
Just get out and get moving!
We'll do this together during the week of June 1st thru June 7th and then meet back for a link up!
So sign up, pick a day and time, snap a picture of you, your route, anything that symbolizes your part in the virtual 5K and know that we are all cheering for you and kicking off the summer with healthy efforts!
25 people have already signed up! Won't you join us?
An email will come your way soon welcoming you, another email will follow soon after with your race bib!
Remember you don't have to be a blogger to sign up! If you want a button, grab it!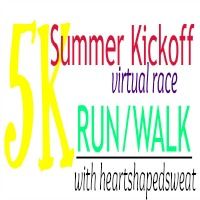 ...happy to have Max with me this month...