Finally Friday!
I'm sooooo looking forward to the weekend, I'm sure you are too!
Considering Sunday will be spent in class studying for the AFAA certification, I plan to relax at home with my 3 L's all.day.long Saturday. Maybe squeeze in a little workout, maybe not. No pressure this weekend! I may even completely unplug. maybe. This has been a busy week on the blog, thank you all for playing along!
1// HELLO hot new running shoes! I drove my happy self down to Carytown this week to Road Runners. There they have you walk and run to determine your gait. Turns out the shoes I've been choosing over-correct my slight pronation. In fact my left foot turns inward more than my right foot. No wonder my right knee and ITband have been bothering me! They gave me 3 choices in the perfect structured shoe for
me
and I chose the Nike Zoom Elite based on fitting not color. Trust me, if you
follow me on Instagram
then you know all about my cry for help over this bubblegum pink color!
2// Aprils fitness challenge was
Be Your Own Inspiration and Be More Active
. I think I did pretty well. Even my boys jumped on this and my husband,
well
that man is plenty active already. Anyhoooo, I definitely added more running to my routine,
tried fun fitness
and picked up the kettlebell more times than I can count. Hope you all had fun with the Be More Active Challenge too! We'll soon see what challenge May brings us
:)
3// Like Father like son! Little man Landon is all about his daddy. He got a leaf blower and mower for his birthday so now he's happy instead of crappie when his dads doing yard work. The two of them do it together every week. Landon even tries to bring the mower into bath time and bed time. Too cute.
4// Another green smoothie! You know this had slide into my H54F post
:)
Be sure to
check out the linky
and add yours too if you've joined us!
5// Lance is doing shot put on the track team now! He's a sprinter and loves the 100 meter dash but he's gotten really good at shot put so coach let him do it twice this week! He's making his momma proud!
*Take a
moment to reflect
on the
big and small things
that make
your week more
beautiful.
Have you ever been fitted for running shoes?
Sat through an AFAA Certification class?
Much love to you all!!
Hope you each have a wonderful weekend!
P.S.
Hopefully you caught
yesterday's post
!
All my April Sponsors make me smile ear and to ear, you should def go meet each one!
This months
group giveaway
has a $70 VISA up for grabs along with some real estate... have fun with that
:)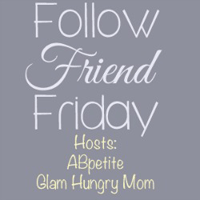 AND
Weekend Bloglovin Hop