Can't pick just one! Hello fancy Tuesday link ups!!
I love each of these bloggers too much to not join the fun!!!
Their prompts are a fun and perfect way for you to know a bit more about me, and for me to learn more about you, so make sure you link up too!
Let's have fun with a few random facts about me :)
I'm the kind of girl who...
loves a shopping spree but feels incredibly overwhelmed in Forever21
over thinks and then thinks on the over thought thoughts
doesn't always catch the punch line and surely can't reference a movie quote
loves music, could live without cable but would crumble without the www
loves deeply, stays loyal, gives freely. favors honesty
accepts all kinds, never leaves anyone out
is happy go lucky, bubbly and spirited yet writings seem to showcase a more serious, sentimental side
loves a long talk, cries through a heart to heart and understands a blow out is at times, necessary
stacks her flats and lays flat her boots. owns too many hairbrushes and uses only one
allows her jewelry to lay in knots but carefully arranges each earring
swears by mascara, a glossy smile and a spray of floral perfume
digs deeper into each squat, runs the extra mile, curls the next set, holds the plank longer
tries to always improve upon the day before, yesterdays standards are
so
yesterday
compiles recipes and magazine tear outs with hopes of mastering the art of cooking for a family
has a style that's ever changing, always evolving, never the same
keeps a messy room but bed is always made. collects water bottles on the nightstand but alarm is set
spends nights alone and sleeps with 3 blankets. holds hubby tight when work lets him be home
can get dirty with my boys, swing a bat, spike the ball, spiral the throw and race the cars
captures snapshots of life at a rate that drives the husband insane, and finds this funny
treasures each little moment in life and yearns to stop "glorifying" busy
seeks peace not only in the moments of silence but in the times of chaos too
needs to pray more, seek his answers, and walk more in his light
alright, this seems like a good stopping point!
no. one more...
...
I'm the kind of girl who
loves that you stop by each day and take the time to chat with me!
So, today I ask you to leave me a comment with
one random fact about you!!!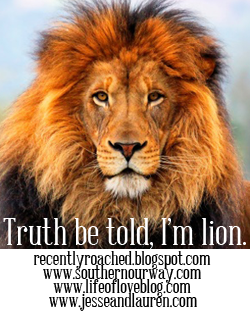 And for the
Truth be told, I'm Lion
tricky trick....
these are easy...I'm not very good at lion!
I'm obsessed with Bickram Yoga, love a good sweat session and stretch!
I've ran at least 20 races in my life, placing 1st and 3rd in 4 of them!
I do 88 lunges, 100 squats, 100 crunches, 60 wall balls, and 4 minute planks in just one workout!
which is a lie? which are the two truths? Leave your guess below. I'll share the answer in tomorrows post!